Oddhop Status Update #2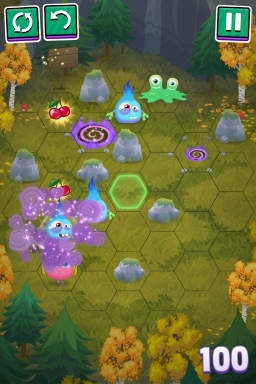 Well look at that, I made a second post in the series of Oddhop status updates, just like I sort-of-promised! 🙂 For comparison, check out the earlier post here. But first some exciting news: currently Oddhop is about to start private Alpha-testing very soon! It is a small step for humanity, but a big one for us: before only a handful of folks have tried or even seen the game. 😄
In addition to Alpha-testing, I set up a page for the game (Oddhop). Check it out for more information! I've also been preparing the Oddhop Press Kit, which will be posted soon. UPDATE: The Alpha-testing has begun, and the Press Kit is now available!
As customary, here's a brand new screenshot and then we'll dive right in just what the hell is going on with the game as of late!
Oddhop TODO-list, February 2016
Again, in no particular order, here are the things still need to be done. As you can see, the list is much shorter than it was last time! Personally I'm happy with the progress made in the last month, I've put in as much hours as I possibly could.
Sounds & Music: We've added quite a bit of sounds into the game, but many sounds are still missing and some are not final. Solid progress on this front, all in all. For music we're actually thinking of using just ambient soundscapes (think forest with birds chirping, wind blowing) for the ingame audio. A fun theme song that plays in the menus is needed still, we will be searching for a composer later.
Social stuff: Yes, these Google Play Games (Android) and Game Center (iOS) integrations (achievements, online high scores) are still missing, I'm only doing them at the very end. Check the previous post for details, if interested.
In-App-Purchases: We got only one IAP and it's the option to remove the ads for good. The ads are in but the IAP is not, yet.
Statistics screen: I'm already tracking total playtime across all levels, but we will add some simple stats just for fun, like number of creatures eaten and so forth. Simple stuff so no worries there. I decided it was not necessary for the first Alpha, so it was postponed. 🙂
Code cleanup, refactoring: Basically getting rid of any remaining prototype-quality code, there is still some nasty stuff left in there and I really don't want to be the one maintaining that for years to come! (But alas, I am.)
More testing!: We're currently in private Alpha for friends and family. A public Beta may start later, so do keep an eye out for beta access later on if you want to help! 🙂
Polish, polish and more polish!
Here's a reminder what was in my TODO list before, and now is looong gone! 😉
Analytics: I added some analytics that help us determine if there's need for level difficulty adjustments, average play times, etc.
Localization: I went ahead and did a quick and simple localization system, basically the same one as in Jewels 2. Texts and UI can now be localized into various (Western) languages. Player can switch the language at runtime and the UI updates accordingly. We probably ship with English and Finnish only, though.
Menus: I've done most of the menus, basically there's only statistics screen and stuff related to the social services (Google Play Games and Game Center) that are not yet done.
Final levels: Well, can't say the current level selection is final final, but it is what it is and hopefully with this alpha we can gather some feedback. Still have time to change levels, if needed. 🙂
Binary level package format
Player profile
Tutorial system: Tutorial tips work. I may add an animated hand/finger thingy at the very beginning of the game later, not sure yet.
Settings system
Creature Animations: Done, except I'll probably want to have an eye movement system where the creatures can look around and stare at things happening around them, but that's for the polish phase.
Ads: Since I've got a family to feed there are ads in the game (on Android), but don't worry, there will be an option to remove the ads with a single purchase!
That's it for the February update! See you possibly in March! 🙂