Game Center support in iJewels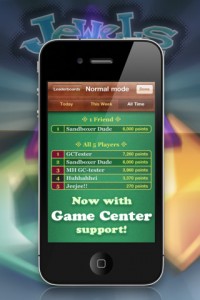 iJewels update version 1.2 was approved today, and the main things on the plate are Game Center support and a brand new game mode: Quick play. In Quick game you have 75 seconds to earn as much points as possible. The new Quick mode will be also available on the Android-Jewels eventually.
Game Center is of course the new social gaming platform from Apple, and is used for the Global High Scores / Leaderboards in iJewels, along with the existing Scoreloop integration. The scores will be submitted to both services, if GC support is activated.
Also in the update are the usual fixes and improvements, so go ahead and grab it while it's hot — if you're on iOS that is. 🙂